News And Events...
Victorian Christmas Tea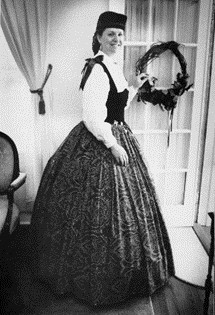 Join Jane Peters Estes for "A Christmas Past"
December 16, 2018 at 1:00 pm.
Tickets $25
Jane is a well-known lecturer on many topics related to women and their lives during the Victorian Era.
Over tea, you will learn the origins of many of our holiday traditions, such as the Christmas stocking and tree, and discover Christmas customs observed during the Civil War.
You will also enjoy a tour of Historic West Hill Manor.

Click the Buy Now button below to purchase your reservations at $25 each. Payments are processed through the PayPal service. All major credit/debit cards are accepted.
Civil War Encampment West Hill Manor House held their 5th annual Civil War "Living History" Event on Saturday, Sept. 23, 2017.
The 6th New York Independent Battery used an original Civil War cannon to demonstrate its use during the battle. Company G of the 23rd Regiment New Jersey Volunteer Infantry, which consisted of men from Burlington County, and the 6th New Hampshire Volunteers, demonstrated drills, shooting, and camp life between battles.


West Hill placed in the National Registry of Historic Places West Hill was recently placed on the State and National Registers of Historic Sites. On Saturday September 27, 2014, M.W. Joseph H. Rival, Jr. and M.W. Gerald J. Sharpe participated in the unveiling of the National Historic Register plaque.
New Visitors Hours! Visiting hours are now available on the third Sunday of each month from 1:00 PM to 4:00 PM EST.